Ericeira is a small town in Portugal, full of charm and located only 50 km from Lisbon. It is the ideal city to visit during the hottest months: there is always a little wind that refreshes you. Ericeira was originally a fishing village that developed a lot in the 20th century, mainly due to tourism and the increasing demand in high season. It is a small seaside resort with easy access, which makes it popular with many Portuguese people who come from Mafra, Lisbon or other more distant cities to spend weekends or holidays there. Ericeira is so popular that nowadays many tourists from all over the world come to visit it. This city has a large number of beaches which I will list below.
The oldest part of the village of Ericeira, with its streets closed to traffic and its white and blue houses, can be crossed from one end to the other in half an hour. In winter, there are few people, but now that this village in Portugal is better known, the esplanades and public benches in the squares and along the cliffs are beginning to fill up.
Ericeira is a town that you can come and visit for a day but it also has all the charms of a resort where you could stay during all your holidays in Portugal.
Activities in Ericeira
There are many things to see in and around Ericeira but it is always nice to be able to discover the surroundings through sports or relaxing activities. Below you will find a form to book an activity in Ericeira.
All of these activities are carried out by a company based in Ericeira which organises various excursions or outings for visiting holidaymakers or locals staying in the town. These are people I know well, who only offer qualitative activities that are very successful, out of the ordinary and will allow you to visit Ericeira in a different way.
Surfing lessons and courses in Ericeira
Ericeira is above all a city surrounded by many beaches and many surf spots recognized in Europe and the world. Surf courses in Ericeira are open to all those who wish to learn to surf and enjoy the waves of a world famous surf reserve.
These surfing lessons last 2 hours, are done in groups and can be given to beginners or intermediate surfers. The lessons include the surfboard, wetsuit, transport, insurance and surf teacher.
The prices are 35€ for 2 hours of lessons, 90€ for 6 hours of lessons and 125€ for 10 hours of lessons. If you wish to have private surfing lessons in Ericeira it is also possible: the price is 90€ per hour with an extra 45€ for each additional person if you wish to have a private surfing lesson with family or friends.
Paddle activity in Ericeira
The paddle has experienced a huge boom in recent years and of course Ericeira and its many beaches have only been able to keep up with the trend. Here we offer you a Stand Up Paddle activity in Ericeira. Join us for a fun activity standing on your board, on the edge of the Atlantic Ocean, in the calm or the waves to learn how to paddle and master your paddle. For this paddle activity you are not alone as the instructor will accompany you to teach you how to master the board.
Paddle lessons in Ericeira last 2 hours, are done in small groups and include paddle board, paddle instructor, insurance and transportation.
Prices are 35€ for 2 hours of lessons or 90€ for 6 hours of lessons. You can have private paddle lessons in Ericeira for 70€ per 2 hour lesson.
Mountain bike activity in Ericeira
The landscapes of the Ericeira region and the surf reserve near the Ribeira beach of Ilhas are absolutely magnificent. Hills and cliffs overlooking the sea that you can discover thanks to the mountain bike activity in Ericeira.
This activity can only be done with a minimum number of participants as it includes transport, mountain bike, helmet, guide and insurance but most importantly it costs only 15€ per person.
The mountain bike activity lasts 3 hours and will allow you to discover a 10 km long trail among the fauna and flora of the Ericeira region.
Jet Ski tour in Ericeira
EDIT: Due to recent works at the fishermen's beach in Ericeira center, the Jet Ski activity has been suspended !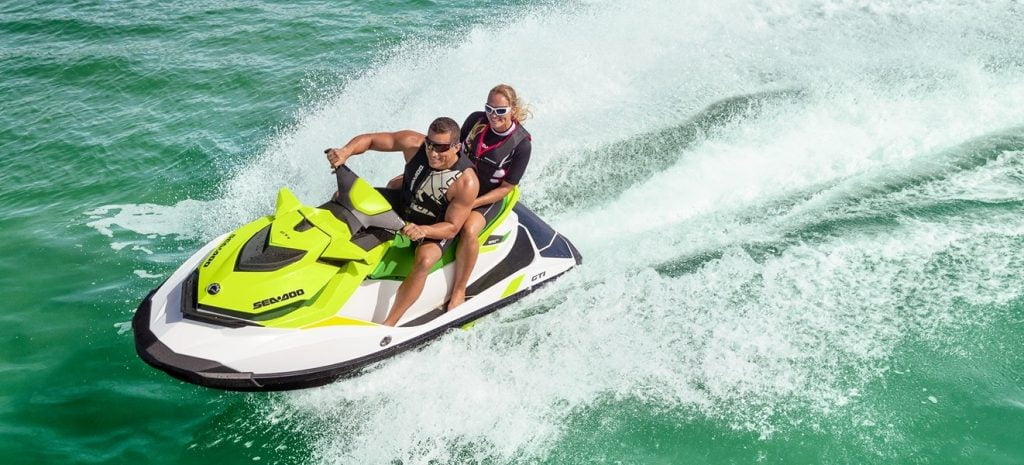 Jet Skiing is a really worthwhile activity in Ericeira as there are many beaches, it is a long city by the sea and therefore there is a whole area to discover from the Atlantic Ocean which is very nice.
Just fill in the form and the team will give you all the information you need to book your Jet Ski in Ericeira. The price is on request, the session lasts one hour and includes a Jet Ski tour with a company pilot (2 people can be on the jet ski in addition to the driver), safety vest, insurance and instructor.
Booking form
Fill in the form below, choose the activity you wish to book and the team will contact you for the organization. The instructors speak English and Portuguese but they can be accompanied by an english-speaking person.
I insert in the form a heading "Others" because there are many other activities proposed such as climbing, bodyboarding, the discovery of Ericeira by mountain bike, the discovery of Sintra by mountain bike, a sightseeing tour in Ericeira, the visit of the palace of Mafra, the national park of Mafra, the castle of the Moors, the national palace of Pena, or a day of adventure and water sports. These activities depend on the number of people but if you are a large group everything is possible, the organizers are very good.
By validating the contact form, you authorize me to transmit your request and your information to the organizers who will be able to come back to you directly to answer it.
Hotels in Ericeira: where to book?
There are a lot of hotels in Ericeira, especially since the last few years when there has been a lot of construction.
The advantage of the hotels in Ericeira is that many of them have been built in the centre of the old town. So you will have all the amenities close by but of course the disadvantages of the noise of Ericeira's city centre. Many tourists and locals meet in the city center in the evenings to drink and party. There aren't many lively bars in the evenings, so they are often all in one place.
You will also find a number of hotels in Ericeira which are located further away from the city centre. You will be a little farther from the center (which will always remain accessible quickly on foot) but a little more quiet.
Wherever it is located, you can see that the hotels of Ericeira have a very good reputation in general, you are unlikely to make a mistake. If you prefer to choose by yourself, I put a Booking search map below, you'll find hotels, hostels, apartments, whole lodgings, surfers' flats and certainly something to make you happy.
Restaurants in Ericeira
At lunchtime or in the evening, just walk around Ericeira to smell the smell of grills and cross the good restaurants in the alleys. For having eaten in many restaurants in Ericeira, there is not one I wouldn't recommend. It's a story of pride and tradition: all the products are fresh and home-cooked, it's a real pleasure. I will simply advise you to pay attention to the restaurants that look directly on the sea and that offer fish by the Kg: the fish is fresh, no doubt about it but the prices sometimes soar, especially in summer with the beginning of the tourist period in Ericeira.
Rather than going on Trip Advisor looking for "best Ericeira restaurant", trust me and try these few addresses that I recommend. After having tested them all, you can go back to TripAdvisor!
Restaurant le Ti Matilde (R. Dr. Manuel Arriaga 29, Ericeira) – This is a seafood restaurant whose prices are slightly higher than the average in Ericeira, but it's really worth it. At the back of the restaurant there is a terrace overlooking the sea, the fresh fish can be cooked for two people, the shrimps cooked with garlic sauce are to fall and I recommend for 40€ the seafood platter for two people (Mussels, clams, prawns, cooked shrimps and crab preparation).
Tik-Tak Restaurant (R. 5 de Outubro 7, Ericeira) – This restaurant is located in the center of Old Ericeira and offers all kinds of freshly cooked meat and fish. I only went there once but the memory was memorable. I had the chance to try the Black Angus meat piece with its homemade fries and pepper sauce, which I recommend with my eyes closed.
Restaurant Taberna Lebre, Tavern of the Hare (R. da Misericórdia 3, Ericeira) – Ideal for eating hamburgers, Pregos, homemade soup or a tapas-style starter of grilled sausages. Everything is delicious in this restaurant in Ericeira but I recommend the Pregos, it's typically Portuguese and I had never eaten one before coming here: a meat marinated between two slices of toast, with melted cheese, chorizo or other toppings of your choice: a must try.
Brunch Me Restaurant (R. 5 de Outubro 22, Ericeira) – It's the holidays, it's party time, we get up late and there's nothing better than a little brunch around 11am: cereals, coffee, pancakes, nata pastel, pancakes, pancakes, squeezed orange or lemon juice and so on…This restaurant in Ericeira offers brunch or hamburgers at the top and the food is rather healthy and healthy.
Calavera – Mexican Food & Tequila Bar (R. dos Ferreiros 2, Ericeira) – The best of Mexican cuisine can be found in Ericeira's Calavera restaurant, which recently opened next to the market. It also serves as a bar at the end of the evening and is a lively place in Ericeira on weekends. Corona or Super Bock beer, more than ten brands of tequila served neat or in the famous margaritas… Enough to spend good evenings with friends.
Ribeira d'Ilhas Surf Restaurant & Bar (Estrada Nacional 247 – Praia de Ribeira D'Ilhas, Ericeira) – This restaurant bar in Ericeira is the only one located on the beach of Ribeira d'Ilhas and is a good place to have a drink and eat in the afternoon. There is an interior space and a beautiful wooden terrace outside with sea view and footstools to settle down, if you are lucky enough to catch one.
Marisqueira Mar a Vista (R. de San Antonio, 16, Ericeira) – This seafood restaurant is located near the Praia dos Pescadores (fishermen's beach). Here, fresh seafood with many choices: from clams to lobster, shrimps, mussels or whelks… Visiting Ericeira is also a cure for seafood and shellfish!
Tasca da Boa Viagem (R. Capitão João Lopes, 4A, Ericeira) – The restaurant has the simplicity of a tavern betting on fresh fish and certified pasture meat, all cooked to perfection.
Ericeira: fresh produce and specialities
The bread of Mafra
In Pãozinho das Marias, the work starts at half past three in the morning and continues for 12 hours, at the rhythm of successive batches, including ten varieties of bread, croissants, brioches and cakes sold by slice. The family bakery and pastry shop has its own production and won the competition for the best Pastel de Nata of Portugal in 2016 or 2017, held in Lisbon. The house tells a story of tradition linked to one of the most famous products of the region: the Mafra bread, which the grandfather used to make and sell in the grocery stores of the upmarket districts of Lisbon.
Pãozinho das Marias opened its doors almost 18 years ago near the northern beach of Ericeira, opened a new shop in the town centre and provides bread to the Vila Galé Hotel and almost all the restaurants and hotels in Ericeira. All the products used are handmade: the eggs and corn flour come from the village of Barril, the white is made from millstones from the Mafra region and the butter is Portuguese. As for the Pastel de Nata whose crunchy crust wraps around the cream without too much sugar, it can be enjoyed the next day always with the impression that it has just come out of the oven!
Ericeira's Fruits, Vegetables and Grocery Store
Amelia Sobrinho's grocery store is a must for fruits, vegetables and cold cuts. These products made this family business famous 20 years ago and are still a must in Ericeira today. Today it is located in Largo dos Condes da Ericeira, in front of the CTT post office. The prices are of course a little more expensive than in the supermarkets but it is a real pleasure to make the local economy work, the catering part has really a lot of choices (Cheeses, delicatessen…), the vegetables are quite varied, very good and you can find different products that you can't find elsewhere as an english person.
Nearby is the municipal market which is open every day and where you can find fish and seafood on the ground floor, flowers, fruits and vegetables on the first floor and artisanal products on the top floor. To give you an idea of prices, the largest sardine in Peniche (the fish sold at the market in Ericeira comes mostly from barges but also from Ericeira) costs 12 euros per kilo and the smallest in the Algarve is worth ten.
If you are visiting Ericeira and would like to have more choice of fruits and vegetables or discover another typical Portuguese market, then I advise you to go to Luis Carlos Alves in Encarnação, about a quarter of an hour from Ericeira. There you will find an impressive number of fruits and vegetables, some Portuguese and some imported but at unbeatable prices and always of great quality: mangoes, strawberries, apples, dried fruits, pineapples, watermelons, mushrooms, tomatoes, homemade bread, herbs, potatoes & sweet potatoes, raspberries, cherries, nectarines, oranges, leeks and so on… A real treat for those who like to cook good products (which change according to the season of course).
Ericeira's Ouriços
We don't joke about the Ouriço, Ericeira's speciality that you shouldn't eat in large quantities but that you should absolutely taste once if you plan a stay in Ericeira. It is a small pastry the size of the Pastel de Nata and made with sugar, flour and almonds. It's a bit sweet I'll grant you but it's a delight.
You can taste the Ouriço at the Casa de Fernanda, a small high bar overlooking the sea. In the afternoon you can enjoy the sun and the view of the sea, it's a real pleasure! You can find Casa da Fernanda and its delicious Ouriços here: largos das ribas 29A, Ericeira.
The beaches of Ericeira
Find here the list of the main and best beaches in Ericeira, essential for your holidays in this region of Portugal (The Silver Coast).
Fishermen's Beach to Ericeira
Praia dos Pescadores (Fishermen's Beach) is the main and most central beach in the town of Ericeira, also known as Praia do Peixe. It is one of the most historic beaches in Ericeira, from where the royal family went into exile when the Republic was established. Today, it is one of the busiest beaches of the summer season. In the summer a beach bar with deckchairs, ottomans and sun loungers is set up here. If you want to eat (real food), you will have to go up the slope to the different restaurants overlooking the sea like Tasquinha do Joy.
The atmosphere is authentic and you will see on the edge of the beach the boats and the fishermen of Ericeira who go in the morning to catch the fish that are sold at the local market of Ericeira the same day.
Beach of Ribeira d'Ilhas in Ericeira
Ribeira d'Ilhas beach is another very famous beach in Ericeira, mainly because it is one of the best beaches in Europe for surfing. Every year one of the stages of the World Surfing Championship takes place there. It is a beach that moves all year round: in summer with tourists who seek the beauty and calm of the beach and in winter with surfers from all over Europe who come to practice their favourite sport. Ribeira d'Ilhas beach has a bar restaurant, free parking and showers to rinse off.
Calada Beach (Praia da Calada) in Ericeira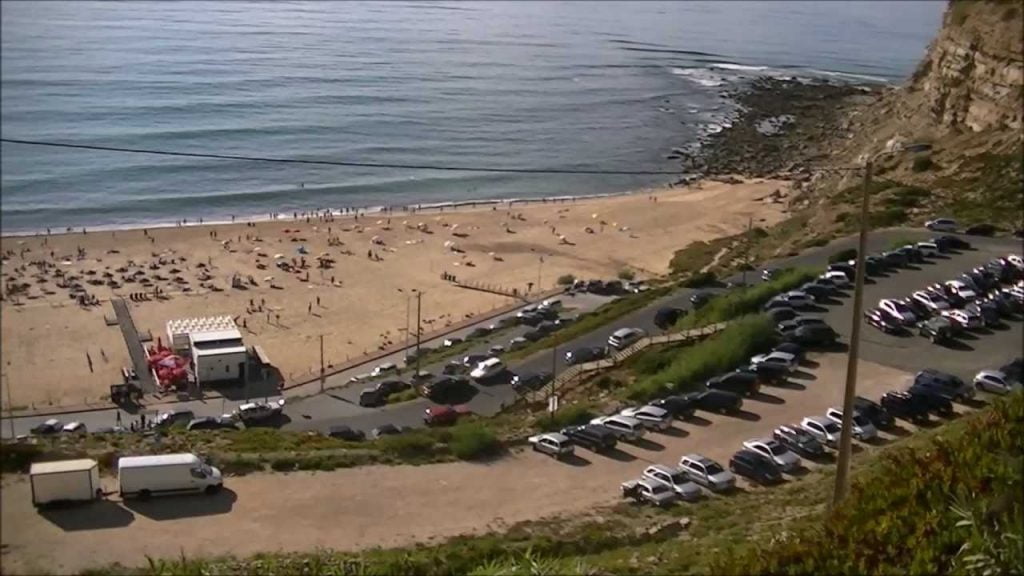 Praia da Calada is an ideal beach for families with children as it is a supervised beach. This beach near Ericeira is embedded between two cliffs, so the sea can be quite calm or rough depending on the wind. There is free parking and a beach bar where you can enjoy a meal or a drink.
The cliffs of Praia da Calada form a beautiful natural environment with a still preserved and varied fauna.
Foz do Lizandro beach in Ericeira
Located near the parish of Carvoeira, Lizandro beach is one of the largest in the area with various services such as free parking, showers, facilities, bars, restaurants, first aid station, water activities, etc.. The beach is one of the most beautiful because of its breathtaking natural setting: cliffs, natural river, fine sand… All along the beach there is a large wooden walkway with bars and very good restaurants.
Beach of São Julião à Ericeira
Praia de São Julião is located between Sintra and Mafra, south of Ericeira. It is another very popular and wide beach with fine sand. The most frequent public in São Julião are surfers and fishermen. But in summer the beach becomes more popular and fills up with tourists. The waves at Praia de São Julião are relatively small, ideal for bodyboarding and for beginners.
Beach of São Lourenço in Ericeira
The Praia de São Lourenço is a small paradise if you are looking for a beautiful and relatively quiet beach towards Ericeira. The beach is normally guarded, has a car park for parking and a seafood restaurant where you can enjoy the local gastronomy. São Lourenço has a great success with tourists. For surfing enthusiasts, the beach offers ideal conditions.
South Beach (Praia do Sul) in Ericeira
The Praia do Sul is also known as Praia da Baleia (Whale Beach) and is close to the centre of Ericeira or the Praia dos Pescadores. It is a very easy beach to reach on foot and is therefore one of the most popular beaches during the summer months.
It is an ideal beach for families with, depending on the tides, a small natural swimming pool where the water can be warmer. There are awnings and tents for rent, the beach is protected from the wind, which makes the sea quieter. You will find bars and restaurants all along the beach.
North beach (Praia do Norte) in Ericeira
The last of the main beaches around Ericeira is the Praia do Norte. This is a more urban beach also sought after by families and therefore very popular in Ericeira. It is located in the center of the village where you will also find all the associated services that will allow you to spend a nice day in Ericeira. This beach is quite windy.